VIEUX-MOULIN: A VILLAGE IN THE FOREST OF COMPIEGNE

19th century Vieux-Moulin print of the book "Autour de Paris" by G. Fraipont published in November 1891 by "Anciennes Quantin Librairies Imprimeries Modernes" in Paris. The village of Vieux-Moulin has 650 inhabitants, it is located in the Compiègne national forest 90 km from Paris, 70 km from Beauvais and 90 km from Amiens.
In Vieux-Moulin there is no longer a mill, the village obviously takes its name from an old water mill operated by the ru de Berne which runs through the whole commune. The commune of Vieux-Moulin includes the village and hamlet of Vivier Frère Robert. The village in the Ru Valley of Bern is surrounded by Mont Saint-Mard and Mont Collet to the north, Mont Saint-Pierre to the south east and Les Beaux-Monts to the north west. Former names of Old Mill from Latin to registered: Vertus molendinum, Vetera molendina, Viel molin, Vieil Moulin.
At Mont Saint-Mard Café L. Dureuil in 1903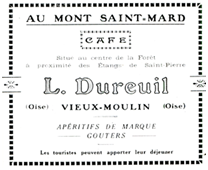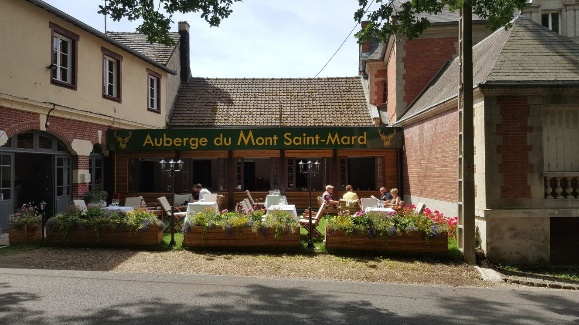 Over the years, the Café-Épicerie run by Mr. and Mrs. Dubreuil will become a regionally renowned inn, especially for wedding meals.
With the construction of a terrace on the first floor, it will continue "le Mont-Saint-Marc" with a "c", this is a mistake that will be rectified a few years later by Mr. and Mrs. Tisserand owners of this restaurant that will become the Auberge du Mont-Saint-Mard" with a "d". Indeed, the name comes from Saint-Médard, famous by a Benedictine monastery of Soissons in the 6th century, the word Saint-Mard comes from the contraction of this name.
Mr. and Mrs. Jacques Tisserand will develop this reputation to make this inn one of the most famous in the region.
Mr. and Mrs. Dupont are now helping to maintain this reputation.

On the left: The Mont-Saint-Mard café in the 1960s.
Right: The Auberge du Mont Saint-Mard in the 1970s.
"La rue de l'église" by the painter Maurice Utrillo

"La rue de l'église" was painted during the period 1916-1917 by Maurice Utrillo (height 52.5 cm.; width 75 cm.). The painter is said to have taken inspiration from a postcard for his painting. Maurice Utrillo was born Maurice Valadon on 26th December 1883 in Paris XVIII and died on 5th November 1955 in Dax, is a painter famous for his animated landscapes, urban landscapes, gouache painter.
The Compiegne forest is a historically domain forest in Ile de France
Learn more